Repotting the Chaffey Cherimoya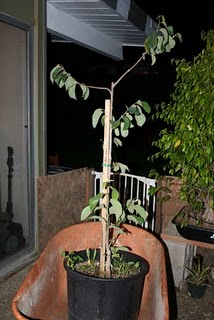 We bought our Chaffey cherimoya tree this spring and never got around to putting it in the ground. The tree lost all of its leaves in April and looked dead so we neglected it but the tree came back!!
Even though it would have been more ideal to plant the tree inground in late winter/early spring I decided to plant the cherimoya inground and just protect it during really cold spells. My sweet husband was kind enough to plant my tree in the dark!!
Here is the cherimoya in the pot. It is about 5 feet tall and when I got it, it was a stick with 2 small branches and about 4 leaves. It doesn't look that much bigger but considering we thought it was dead 4 months ago, it has made a huge improvement.
I am very pleased that there are new branches lower on the tree because ideally I would like to max the tree out at 6 feet tall so that it is shorter and bushier.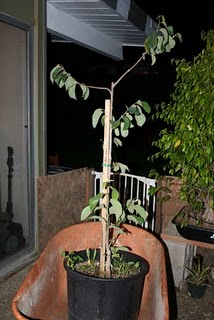 Here is the soil we put in the hole. It is organic matter (mostly compost from our compost pile).
The hole is about 2 feet wide and 2 feet deep in a clay soil but surprisingly the soil a few inches from the surface is not as hard as we thought it was.
The very tiny root ball.
The cherimoya in its new home. It is south facing, under a pine tree, and gets full on morning sun, then dappled midday sun, and then some afternoon sun. I'll try to post a picture of the tree in the daytime.