Cherimoya review: Bays, Pierce and Fino de Jete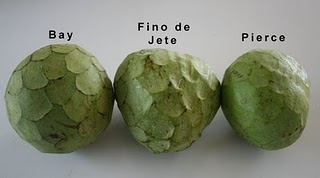 I ordered some cherimoyas from Dario at cherimoya.com because I want to purchase one more cherimoya tree and wanted to taste a few varieties before committing to my next tree.
Dario did a great job sending the variety of cherimoyas to me. Not only were they perfectly wrapped but he also threw in a sapote for me to try as well as some lemons.
Here are some of the cherimoyas he send me. He sent me 2 of each but I gave the others to my family.
This is the Bays cherimoya and more commonly available cherimoya. It has a smooth, custardy texture and only had grittyness near the skin. This is a very sweet cherimoya with licorice undertones (tasted like redvines). It is a larger fruit and had about 34 seeds in the fruit. I ate about half of it before i could not eat any more because of the sweetness.
Here is the Fino de Jete. Now one of my favorites. Boy does this one have great flavor. It is sweet but with more acid so it is tangier. It also has a smooth texture and was a pretty large fruit. What was really great was that it had very few seeds. 16 in the entire fruit! I ate the entire thing in one sitting and wanted more but i gave my other fino de jete to my brother in law! It was that good!!
Here is the Pierce. I love the texture of this fruit. It is creamy but also has some slight texture to it. It also had great flavor like the Fino de Jete. It was sweet with some acid and some of the licorice undertones like the Bay. It had about 28 seeds in it and it was a smaller fruit. My husband had some of this one and he normally does not like cherimoya but could not stop eatting it.
In conclusion, I thought the bay was a little sweet for my taste and it lacked complexity. It also had a licorice undertone that i did not love. The Pierce had really great flavor and texture. The Fino de Jete had the best flavor to me and had very few seeds….so it is a close toss up between the Pierce and Fino de Jete with FDJ with the very slight edge.