Butterscotch Bird's Nest Cookies | Easter or Springtime Treat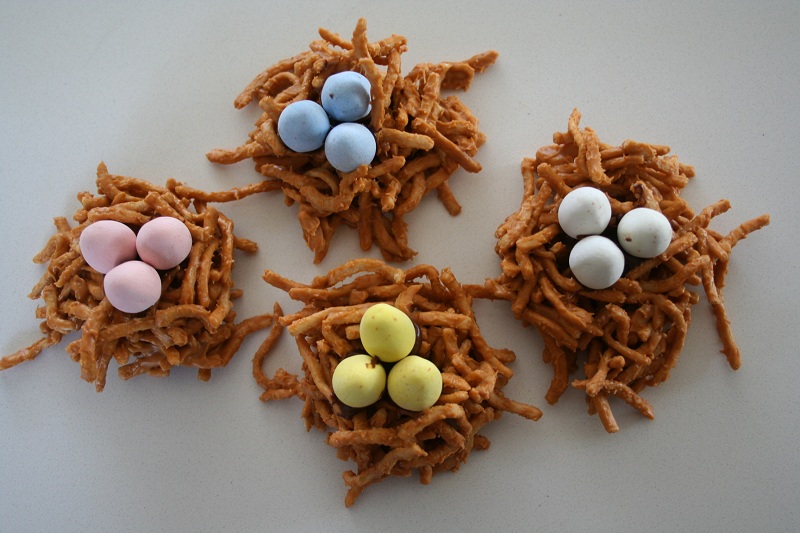 Spring is definitely here!  The plum  and peach trees are blooming.  My chickens are laying and in a few weeks we will plant our summer garden.
We are also lucky enough (or maybe not so lucky for my chickens) to have a hawk nesting in the big pine tree in our neighbors yard.  From our kitchen window we can see the happy couple setting up the nest and the papa hawk bringing yummy treats back to his family (as long as he stays away from our chickens!).
This treat reminds me so much of springtime and Easter!  It is a really easy cookie that you can make with your kids.  I can honestly say that I do not know of a treat that the kids have enjoyed more.  They look so cute but taste even better!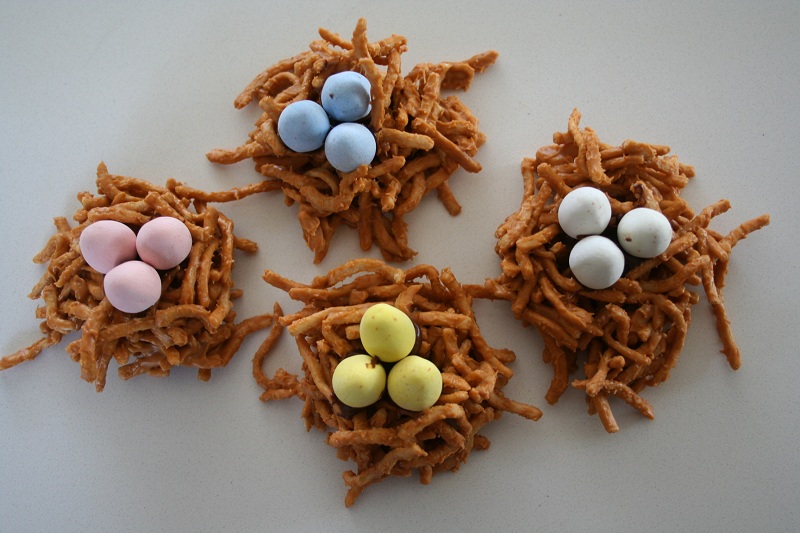 Butterscotch Bird's Nest Cookies
makes about 24 nests
12 oz package of chow mein noodles (the crunchy kind) less about 1 cup that we snacked on
11 oz package of butterscotch morsels
1 bag of Cadbury mini eggs
1/2 cup of chocolate chips to melt to form "glue"…i didn't have any butterscotch left…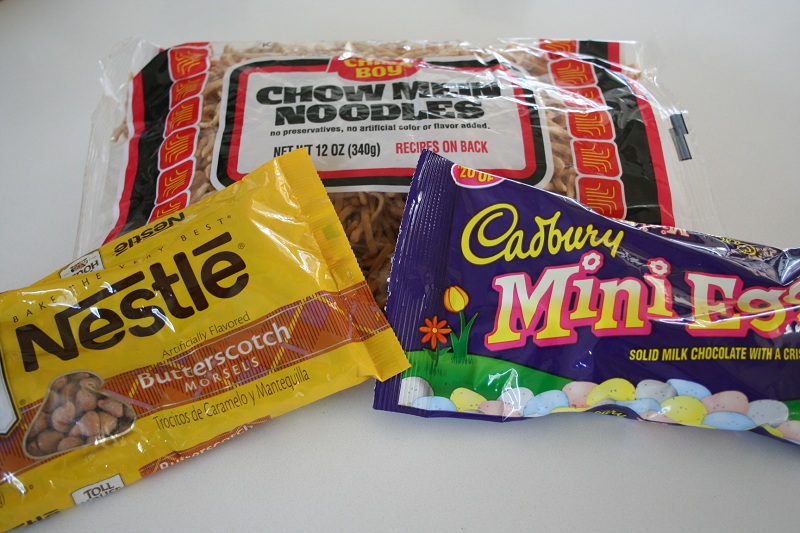 Get all your ingredients and supplies in order as you will need to form your nests quicky before they
harden.
Get 2 baking sheets and line them with either silicone baking mat or parchment paper.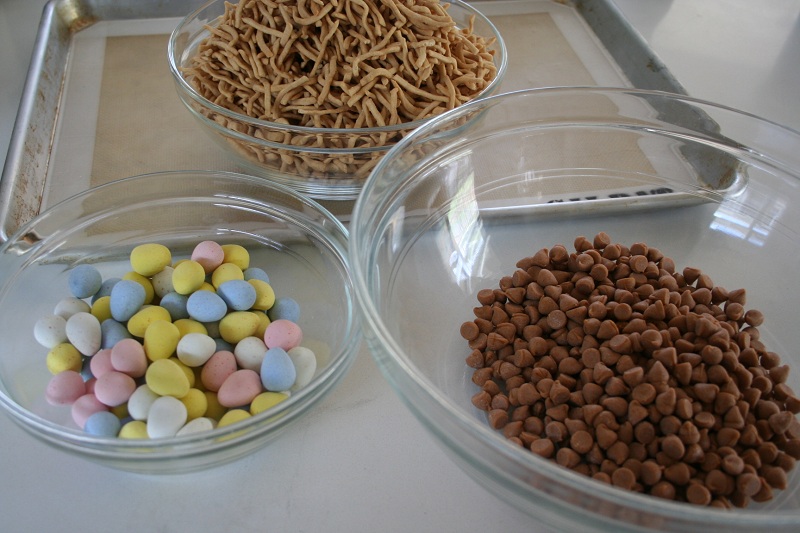 I a large glass bowl (large enough to hold butterscotch morsels and chow mein) melt butterscotch
morsels. I microwave them for about 3 1/2 minutes stopping every 30 seconds to stir the morsels.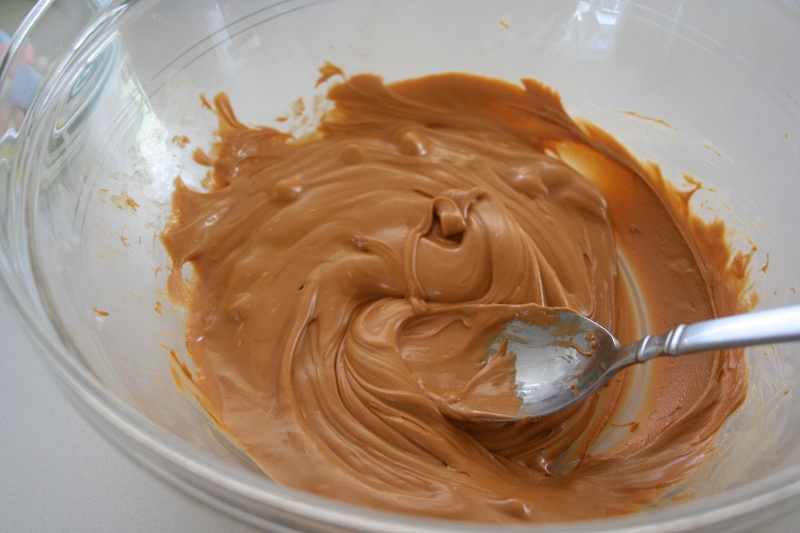 When butterscotch melted, add the chow mein noddles and mix until noddles are evenly coated.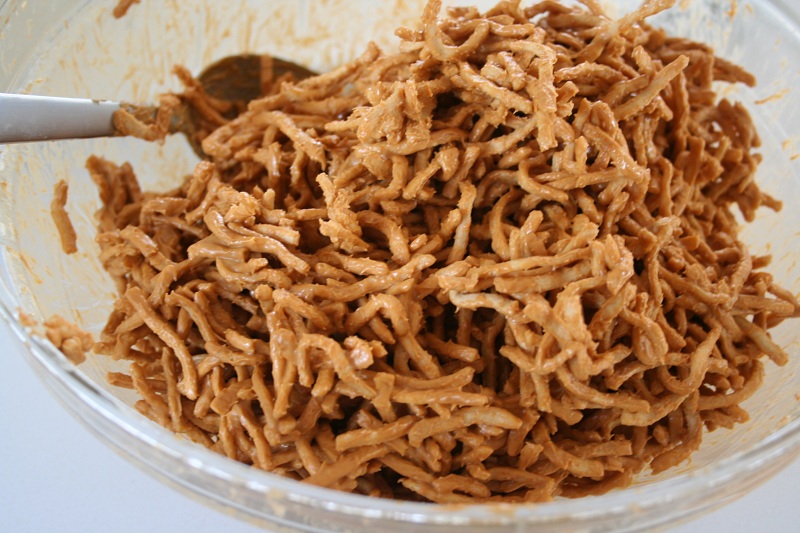 Quickly using an icecream scoop, scoop out mounds of the noddle mixture and press an indent in them
to form a nest shape and hold the eggs. If the mixture hardens in the bowl, microwave for 20-30 seconds
to melt butterscotch again.
You will need to work quickly to get the nests form.  In the picture below, half of the nests are formed.  It will be easier if you flatten them and make a bigger indent in the middle than I have.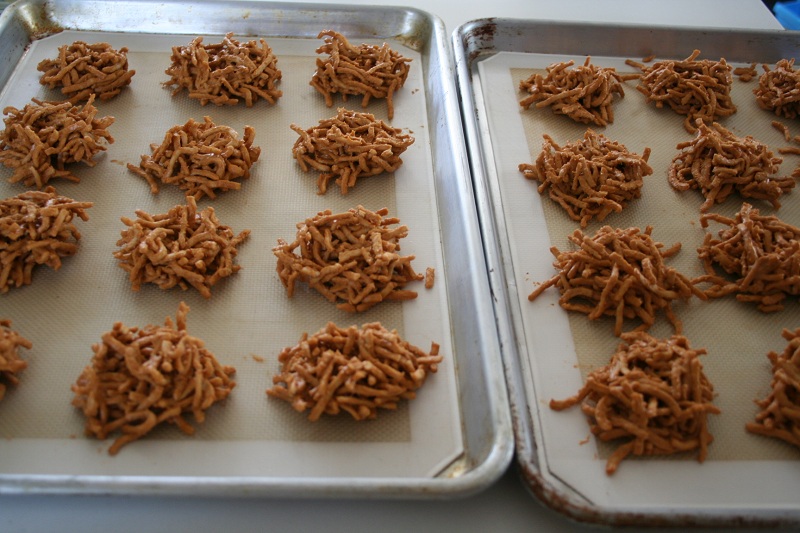 By the time I finished with all the nests they were too hard to allow the eggs to stick to them so I took 1/2
cup of extra chocolate chips I had lying around, melted them in a small glass bowl (took about 1 1/2
minutes – stopping every 30 seconds to stir).
The boys and I dipped the bottom of the eggs into the chocolate "glue" and stuck them in the nests.
Let harden for 5-10 miinutes before serving or transferring.