Tammy's Apple Crisp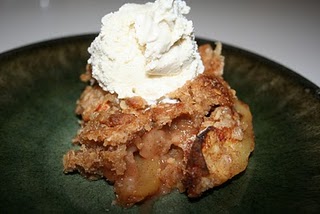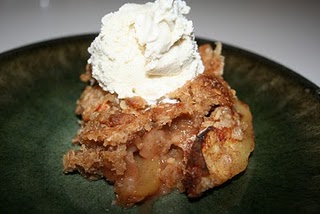 My husband loves crisps and cobblers.  So much more than pies because he loves the crispy, buttery goodness on the top of the fruit over pie crust.
Here is one of his favorite desserts.
Crisp Topping:
1-3/4 cups all-purpose flour
1-1/4 cups oats
1 cups brown sugar
1 cup of granulated sugar
1/8 tsp. cinnamon
1/8 tsp. nutmeg
1 cup butter melted
5-6 Granny Smith apples, peeled, cored & sliced
2 tbsp. sugar
2 tsp. cinnamon
Directions:
Preheat oven to 370°F. Grease an 8-inch square baking pan. For the topping: Mix together the flour, oats, sugar and spices in a large bowl. Add melted butter and blend until the mixture just begins to come together.
Toss the apples in a large bowl with the sugar, cinnamon, and lemon juice. Spoon into the baking pan and sprinkle the topping mixture over the fruit.
Bake for 45 to 60 minutes, or until the apples are tender and the topping is browned and crisp.
Serve warm with a scoop of rich vanilla ice cream.