Roasted Pork Bahn Mi Vietnamese Sandwich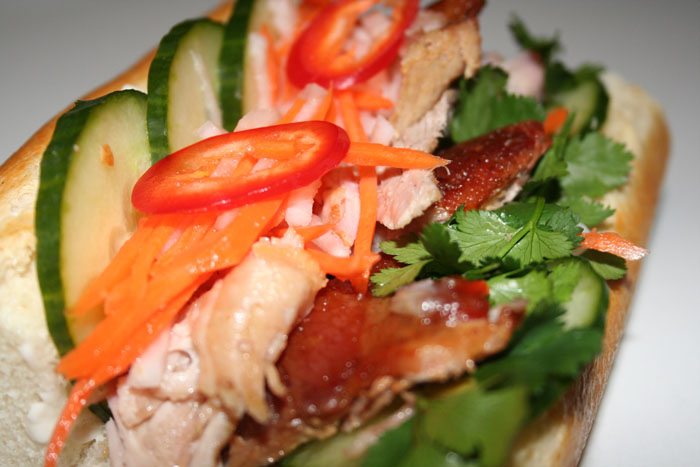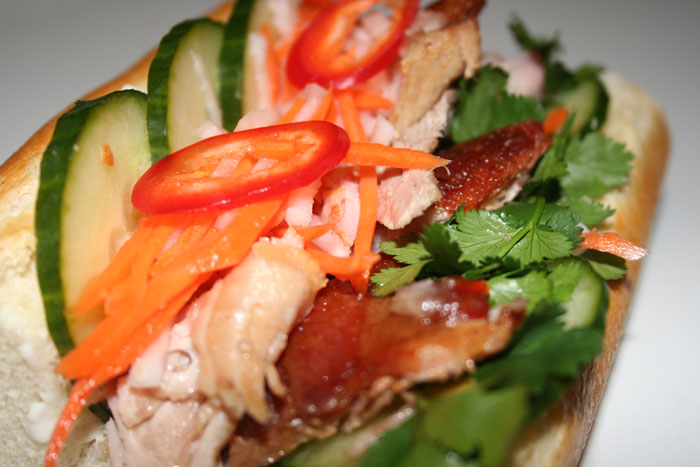 I love these sandwiches.  They are very common in vietnam and are like sub sandwiches but with better flavor.  You can traditionally find bbq chicken, pork, pate as the meat with pickled vegetables, cilantro, jalapenos, and cucumbers.  The bread that they use is a very light and crispy french bread that is not too dense and a perfect vessel to hold all the fillings.
Here is one of my favorite sandwiches.
Roasted Pork Bahn Mi
Ingredients:
3-4 lbs. pork shoulder
Brine:
3-4 Qt. cold water
4 bay leaf
2 tsp white pepper
4 T cracked black pepper
2 each Thai chili (crushed)
2 each jalapeno (sliced)
1/2 c. garlic (minced)
1 1/4 c kosher salt
1 c. brown sugar
Pickled Vegetable:
3/4 cup white vinegar
3/4 cup white sugar
3/4 tsp. salt
1 cup carrots (julienne)
1 cup daikon root (julienne)
6 french rolls or ciabatta rolls
1/2 cup mayo
fresh ground black pepper
1/4 c. soy sauce
1 English cucumber (sliced lengthwise into 1/8″ thick slices)
3 jalapeno (thin sliced)-optional
12 sprigs cilantro
Directions:
With a fork or paring knife, poke the pork thoroughly.
Combine the brine ingredients and mix well. Place pork in the brine for 4 hours or overnight.
Meanwhile, make the pickled vegetables by mixing vinegar, sugar and salt until sugar and salt are dissolved. Pickle the carrots and daikon in solution for at least 30 minutes or up to 1 week.
Remove the pork out of the brine, do not rinse.
In a 400 ºF degree oven roast pork for 30 minutes or until browned, then turn it over and roast for another 30 minutes. Check for doneness, your thermometer should read 140-145 degrees. Remove from oven. Let meat rest about 30 minutes. Thinly slice meat and divide it into 6 portions.
Lightly toast rolls. Then sliced rolls in half lengthwise and remove some of bread inside to create a pocket for the meat.
Spread mayo on both sides and place a few slices of pork pate on one side of the bread.
Layer 1 portion of your sliced meat, sprinkle with black pepper and soy sauce.
Layer carrots, cucumber, cilantro and jalapenos on top if desired.