How to make Almond Roca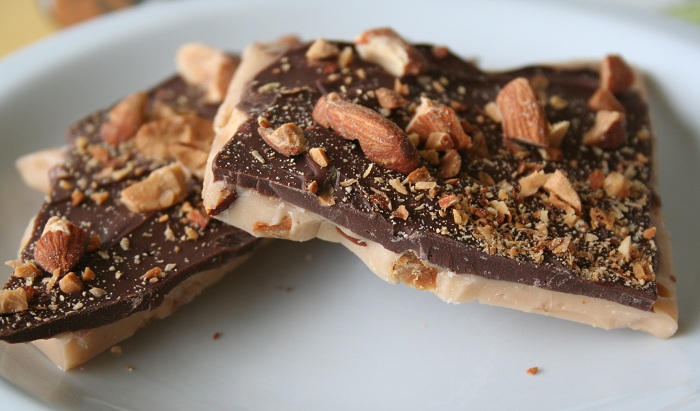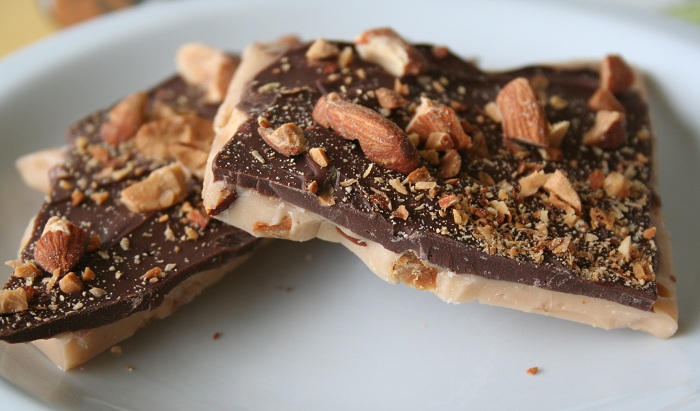 Almond Roca is one of my favorite candies!  I have loved it ever since I was a child.  I remember one of my first cookbooks was this miniature cookbook that was given to me by my mom's boss.  The book was about 2 inches by 2 inches and only had candy and cookie recipes in it.   One of the recipes was Almond Roca.
The first time I made almond Roca was when I was about 10.   We were latch-key kids (as were most of the other kids in my neighborhood back then) and did not have much money.  Almond Roca was NOT in our budget but the ingredients are simple and you can usually find them in most kitchen pantries.  It tasted just like the store bought stuff and that was when I became hooked on making my own treats 😉
Note: I would NOT recommend letting a 10 year old make this recipe.  Making candy can be dangerous as the sugar mixture gets quite hot.
Almond Roca Recipe
Ingredients:
3/4 lb butter (3 sticks)
2 cups of sugar
2 TB light corn syrup
1/8 tsp sea salt
6 TB water
1 cup finely chopped toasted almonds
1 bag chocolate chips (milk or semi-sweet) about 12 oz
Directions:
1. In a large pot, melt butter then add sugar, water, corn syrup and salt.
2. Cook over medium heat for about 15 minutes until the mixture reaches about 290 degrees.
3. The color will change from a butter yellow to a dark tan.
This is the butter yellow color: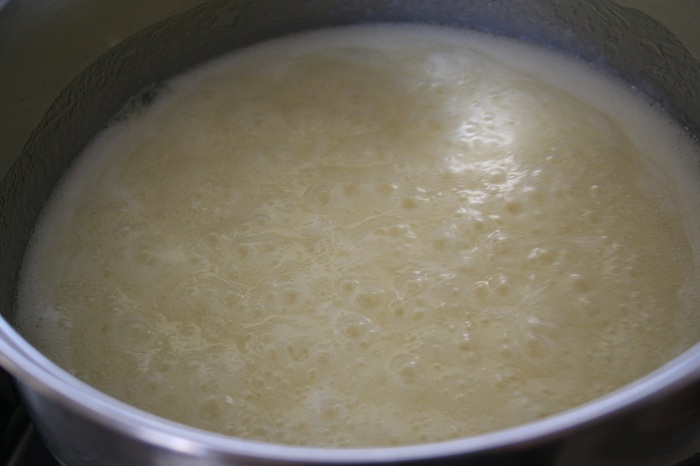 This is the tan color: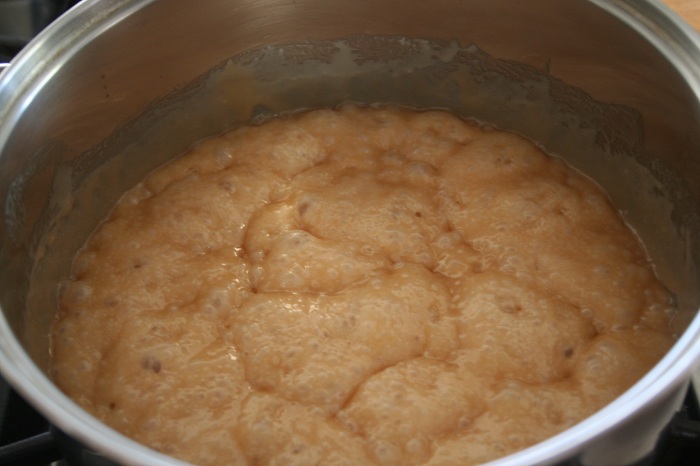 4. Remove from heat and add 1/2 the almonds and stir mixture.
5. Pour the micture onto a silpat that is in a rimmed cookie sheet. If you do not have silpat you can just grease the cookie sheet.
6. Score the almond candy mixture to make breaking easier.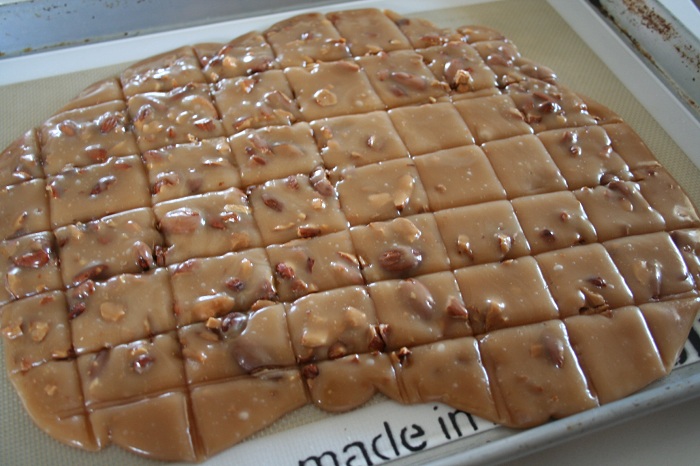 7. In a glass, microwaveable bowl, melt chocolate chips for 1.5-2 minutes stopping and stirring every 30 seconds.
8. Pour chocolate over the almond mixture and spread evenly.
9. Sprinkle with remaining almonds pressing almonds into the chocolate GENTLY. Put in the refrigerator to cool for about 45 minutes before breaking apart and serving.
Tip: You can store in refrigerator in an airtight bag but mine never lasts very long.