Warm Brussels Sprout Salad with Bacon & Eggs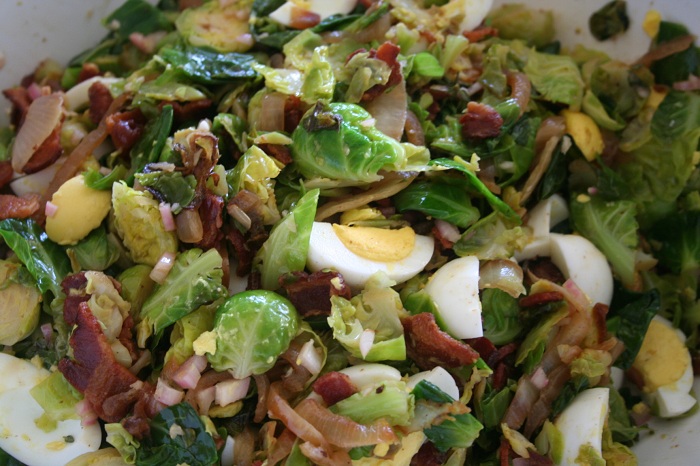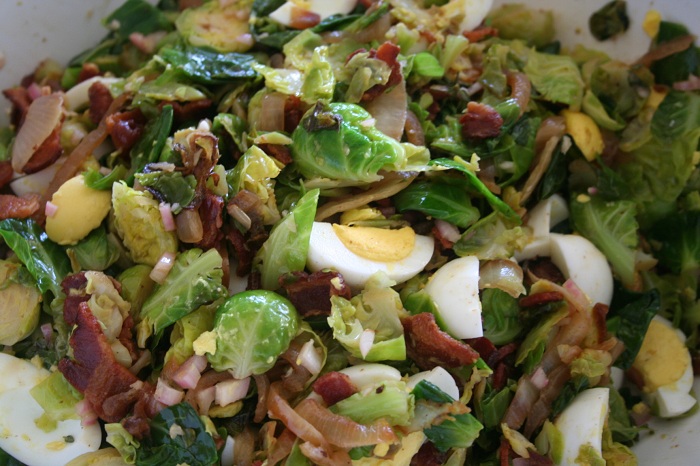 This is one of my favorite salads and it has all of my favorite things in it: Bacon, carmelized onions, eggs, and brussel sprouts…YUMMY!
INGREDIENTS:
The Dressing
2 large shallots, diced
4 small garlic cloves minced
1 teaspoon chopped fresh thyme
1/4 cup red wine vinegar
2 tablespoons extra virgin olive oil
The Salad
80 Brussels sprouts (about 5 pounds)
1 large red onion
2 tablespoons butter
4 large eggs
2 cups 1/4-inch cubes of artisan bread flavored with herbs, crusts removed
4 tablespoons olive oil
1 pound bacon, cut in 1/2-inch dice
Salt and pepper to taste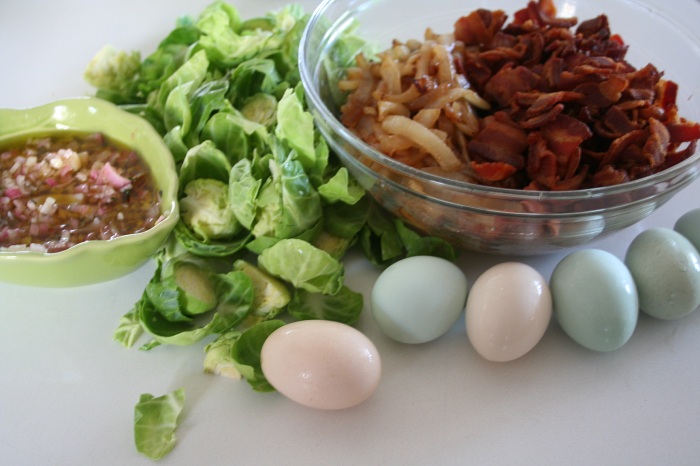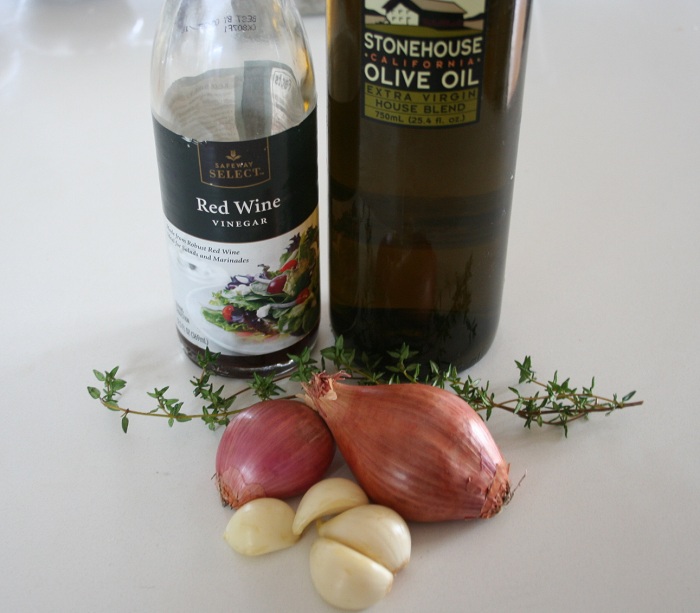 INSTRUCTIONS:
To make the dressing: Combine the shallots, garlic, thyme and vinegar in a bowl. Set aside for at least 30 minutes. Whisk in the olive oil. To prepare the sprouts: Cut each Brussels sprout in half. Place cut-side up on a work surface and make a V-shaped cut to remove the core and any stem nubbin. The leaves will fall off and separate. Rinse sprouts and set aside.
Cut the onion, stem to root, into 1/4-inch thick slices. Melt the butter in a skillet. Add the onion and saute over medium heat, stirring frequently, until golden and sweet, about 10 minutes. Set aside.
Place the eggs, still in their shells, in a small saucepan; cover with cold tap water. Bring to a boil, remove from heat and let sit for 9 to 11 minutes. The yolks should be firm, but slightly undercooked. Peel the eggs and cut each into 8 chunks. Set aside. Preheat the oven to 450 degrees.
Toss the bread cubes with 2 tablespoons of the olive oil and place in a single layer on a baking sheet. Bake until golden brown, stirring occasionally. This should take 10 to 15 minutes.
Cook the bacon in a saute pan over moderate heat until golden and crisp, about 7 minutes. Using a slotted spoon, transfer bacon to paper towels to drain.
Heat the remaining 2 tablespoons olive oil in a large saute pan until nearly smoking. Add the Brussels sprout leaves and toss until wilted, about 5 minutes. Season with salt and pepper. Add the reserved onion and bacon. Cook, tossing, until hot. Add the vinaigrette and toss to distribute evenly. Add the croutons and eggs, toss gently to mix.
Serve immediately.
Serves 8.