Flat Apple Pie with Perfect Pie Crust & Caramel Sauce (modified from Pioneer Woman's recipe)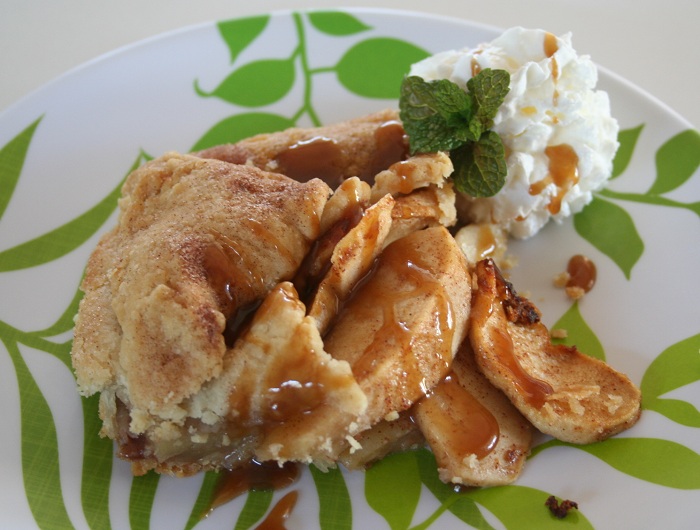 I watched a few episodes of Pioneer Woman on Foodtv.  I actually really like her show and seeing snippets of her  family.  Some of the other females on the show can be a little annoying (my husband can't stand Ida or Paula…says they give him the heebie-jeebies but I do not mind them that much).  Giada is much more annoying to me, with her over pronunciation of everything…"broo-skett-aaaaahhhhhhhh"……gahhh….
I secretly (well, I guess not that secretly since I talk about it all the time) long to have a bigger property where I can have goats, more chickens, and definitely a bigger garden (hence the blog name).
So back to the show…I was sick and stuck in bed ALL MONDAY!  This does not happen to me.  I am rarely sick and when I am I still have to get up in the morning and take care of the kids, but last Monday I was just too sick and my husband had to stay home from work.
So I watched all the episodes of Pioneer Woman that was on OnDemand.  Her recipes are pretty simple and did not seem like they would have the flavor complexity that I like in my cooking but one recipe that really stuck with me was her Flat Apple Pie.  I have been cooking for awhile now and I can tell when a recipe is going to be good…and this was one of them.  It didn't hurt that it was served with Caramel Sauce.  You can tell from reading this blog and following me on facebook that I LOVE caramel sauce….and we usually have some in the fridge.
So here is my version of the Pioneer Woman's Flat Apple Pie with Perfect Pie Crust and Caramel Sauce.  I modified it with what I had on had and added some cinnamon and nutmeg to the apple mixture and also put a cinnamon sugar on the top part of the crust.
ps. Ree, see how I gave a shout out about your recipe…it would be nice if you reciprocated with other bloggers.
Tammy's Version of Flat Apple Pie with Perfect Pie Crust and Caramel Sauce
Serves 8-10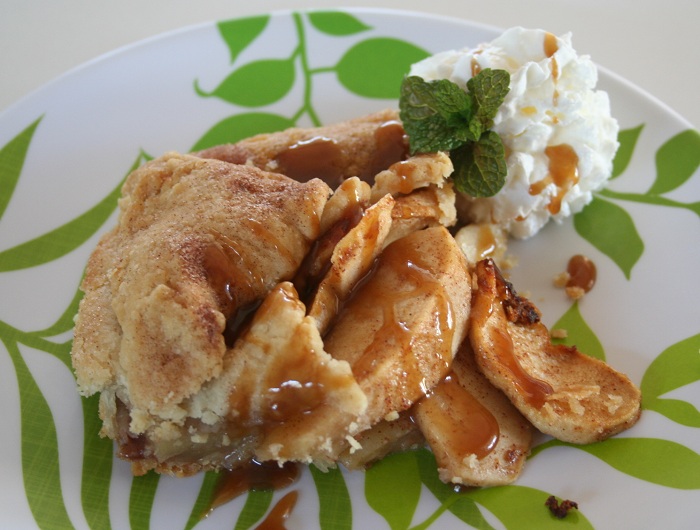 Ingredients
Apple mixutre:
5 Apples, peeled and sliced
1/2 cup granulated sugar
1/2 cup packged brown sugar
2 TB all purpose flour
1 TB cinnamon
1 pinch grated nutmeg
1/2 lemon
1/2 tsp sea salt
Directions:
1. Preheat oven to 375 degrees.
2. Put peeled and sliced apples in a large bowl. Squeeze the juice of 1/2 lemon over it, making sure not to get any seeds in the mixture. Add granulated sugar, brown sugar, cinnamon, nutmeg, sea salt, and flour to the apples and mix.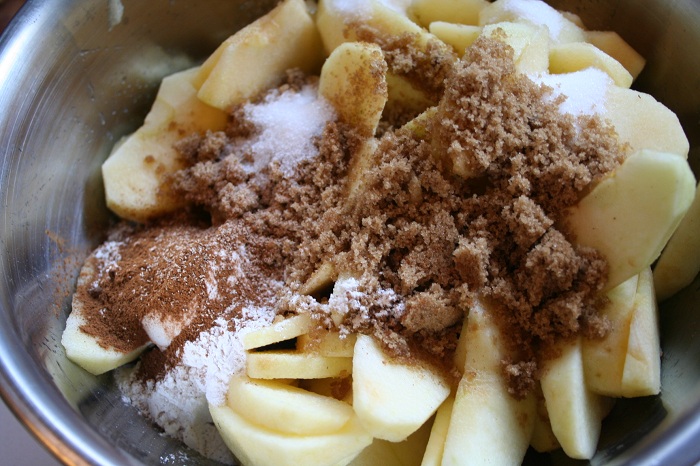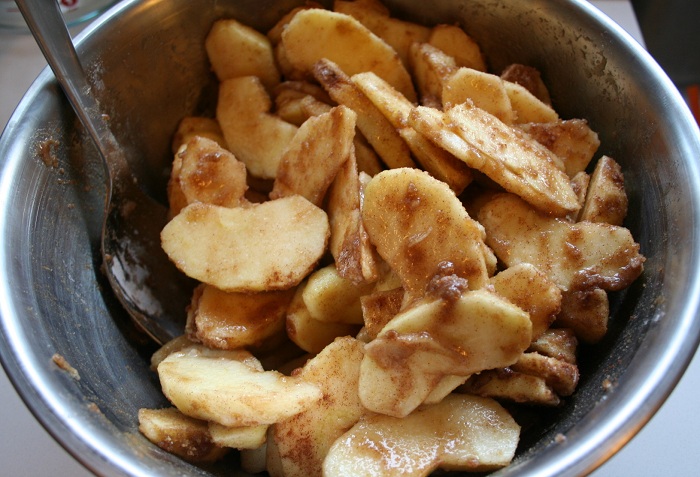 3. Lightly flour your clean working surface. With a rolling pin, beging rolling out the pie crusts into large circles (you can use store bought pie crusts if you prefer). Roll the dough from the center outward. Be gentle and avoid back and forth rolling. When the dough is about halfway rolled out, flour the top and flip it over to finish rolling.
4. Loosen the dough with a spatula or pastry scraper and gently move each one to a rimmed baking sheet.
5. Put half of the apple mixture over one pie crust and bring the edges up over the apple mixture. Repair any holes or tears in the dough (i do this by taking a section that has too much dough and using it as a bandaid over the hole).
6. Do the same with the remaining apples.
7. Dot the apple mixture with chunks of butter.
8. Mix 1 TB sugar with 1 tsp cinnamon and sprinkle around the crust.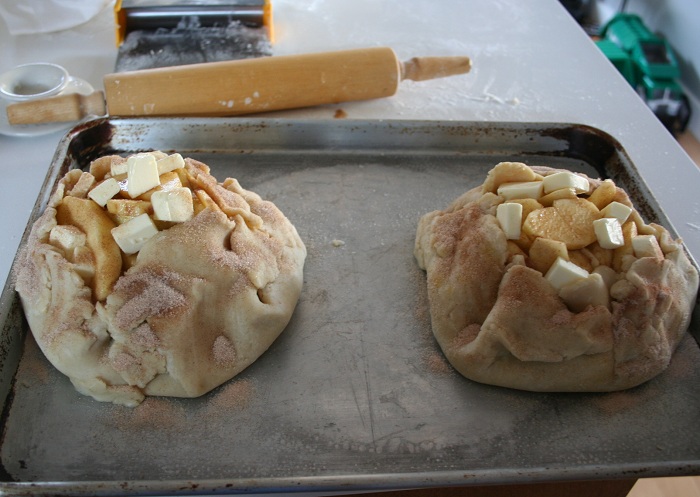 9. Bake for about 50-55 minutes.  While the pies are baking, make the Brown Sugar Caramel Sauce
Here are the 2 pies straight out of the oven with the Brown Sugar Caramel Sauce.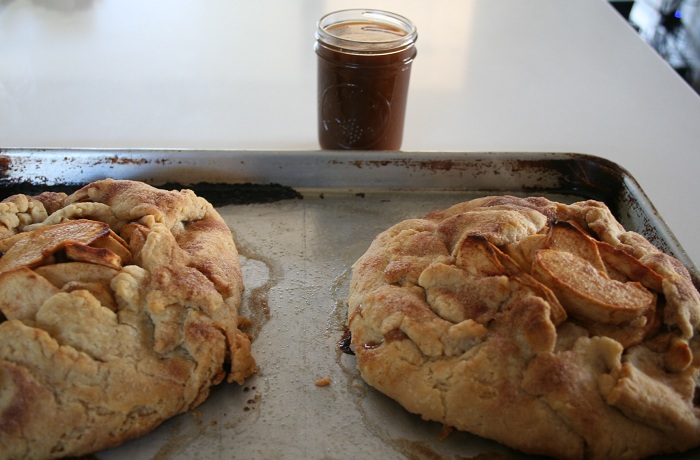 Close up of one of the beauties!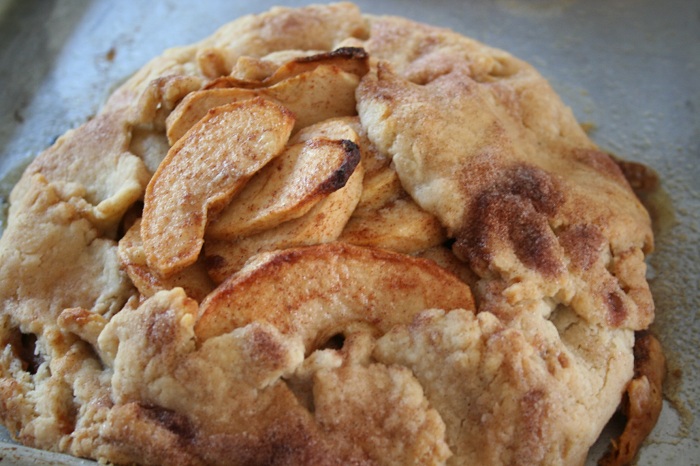 Serve with a drizzle of Caramel Sauce, whip cream or ice cream…ENJOY!